TIMES BANYUWANGI, JAKARTA – What do you think of a private residence which was renovated and assembled with Chinese architecture to look more alike a Chinese temple? Well then, you could find it in Malang.
Located at gang 11, Sanan, Malang, this house was merely situated in a narrow alley. You need to go deep into the lane through some stairs and several connected houses which almost resemble to those place in dense area.
This building is a private residence which belongs to Nurhasim. This guy is a muslim yet he fallen in love to the beauty of Chinese temple he saw in the local area. This house was built in 1980's and his family and him live in there since then.
At glance, this place was just look like a monastery, yet after knowing the history and meet the owner you will find him as a religious muslim who was captivated to the beauty of oriental temple.
The First Impression to Chinese Temple Story
Norhasim was working as tempe vendor and should deliver his product to one place to another. During his trip he always pass by several monastery especially The Klenteng Eng Ang Kiong at Jalan Martadinata Malang.
Day by day his love of the temple grew. He started to collect those oriental things from and keep it in his house. From old cassette recording to certain old ornaments. He has every old painting and books in Bahasa or Chinese.
He gathered all the thing and keep it in his residence. He said to have the collection from those flea market in the local area and neighborhood cities. "I love to visit flea market, yes, from those books, cassette, lamp, posters, and even ceramics," he said.
He then started to give his house a new look with adding the ornaments on the outside. He painted the wall into red and gold, typical Chinese Temple paint and added some lampion to lite it up.
The construction started since 8 months ago. Norhasim did all the thing by himself and pour his imagination and his biggest obsession to this place.
People Mistook His House as a Temple
Sanan has been well known as a place where you can get the local oleh-oleh or souvenir in Malang especially the famous Kripik Tempe or Tempeh chips. And Norhasim also make his residence as tempe production house and a place for living.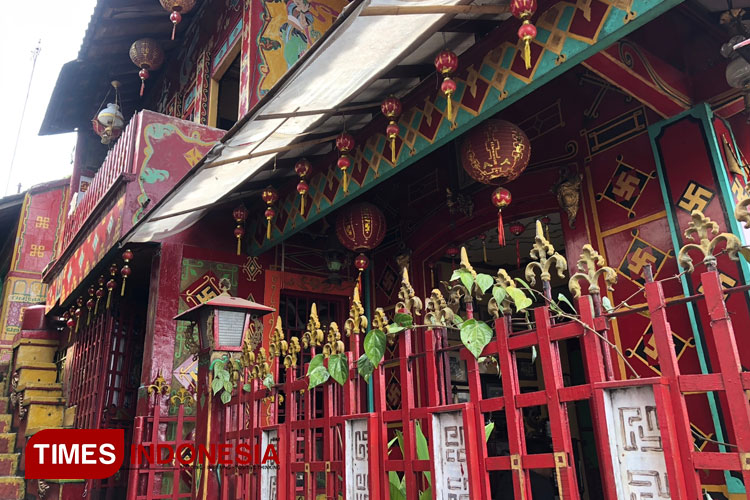 Lots of Tourist comes and go to this are to get some snacks and souvenirs. And when they happened to visit this area, Norhasim house has manage to always steal their attention for the bright and distinctive looking architecture.
Not only those local or domestic tourist but also some foreign tourist coming to this place. They thought that the house was a Chinese temple where everyone could step in and see the beauty inside. but after knowing that this was just a normal residence they just ask Norhasim consent to take a picture in front of hi house.
"Suddenly loads of people coming to this place. Commonly they came to visit for they thought it was a temple. Once there were some tourist from Japan, I did have some from Europe too," Norhasim added.
To maintain the building and the Chinese Architecture Norhasim of Malang used some of his saving from his tempeh business. He also sell some of her collection online and some offline whenever there was some tourist willing to have it to keep the Chinese temple look stay fresh all the time.
| | |
| --- | --- |
| Pewarta | : Khodijah Siti |
| Editor | : Khodijah Siti |